May 2023
Training Announced
Retrofit Fundamentals for Construction Professionals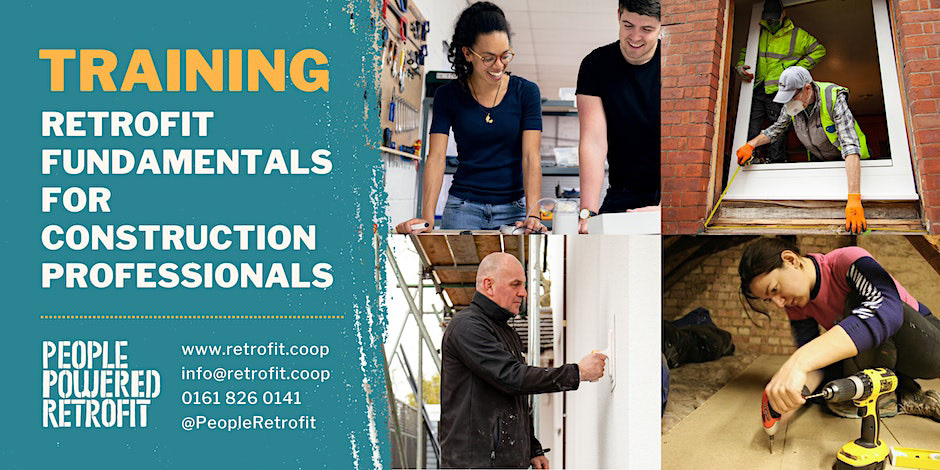 NESFIT Hub are pleased to announced two training courses that will be run in June 2023.
About the events
There is huge demand from householders wanting to make energy efficiency improvements to their homes.
Large companies have to date taken the lion's share of energy efficiency work in large social housing projects, but the majority of the UK's homes are privately owned. Homeowners will need to carry out extensive eco-renovation works as a part of general improvements and extensions in the coming years.
We know demand is there, but we don't have enough people to do the work! These homes need your skills and expertise.
This course gives you a starting point for getting into retrofit, the future of the building industry. Run by experienced retrofit contractors and People Powered Retrofit experts, this two-day course will help you to:
 - understand the fundamental principles of eco-retrofit works,
 - build on your existing construction knowledge and skills,
 - get up to date with the latest green building techniques, products, and regulations,
 - find new business opportunities in retrofit.
What you'll learn:
Retrofit drivers and approaches
 - Factors driving demand for domestic retrofit work
 - How eco-retrofit approaches can be applied to different house types
 - Importance of base-line energy assessments and the whole-house plan
 - Challenges and benefits of 'incremental' retrofit
Air-tightness and ventilation
 - How to identify common air-tightness weaknesses
 - Air-tightness scores and methods for testing air-tightness
 - Common air-tightness products and methods
 - Importance of effective, planned ventilation
Fabric heat-loss and insulation
 - Statutory requirements for walls, roofs, floors, windows and doors
 - Advantages and disadvantages of common insulation methods and materials for walls, roofs, floors, windows and doors
 - Differences between 'vapour-permeable' and 'vapour-control' methods of insulation
 - Mitigating common practical and detailing problems
 - Effective installation methods for walls, roofs, floors, windows and doors
 Thermal bridging and thermal by-pass
 - Principles of thermal bridging and thermal bypass
 - 'Lambda' (k), Resistance (R) and U values
 - Using U values as a tool for assessing building performance

Who is it for?
This course is for construction professionals. We encourage attendance from 
joiners, general builders, and site managers at small firms
 who work on any building projects for which the Scottish building standards apply.
This course is also useful for:
For people overseeing building works on site: a first step into specialist eco-renovation/retrofit techniques and considerations to meet new customer requirements from an experienced tutor with on site contracting experience
For business managers: what you need to know if you're considering entry into this specialist area, with fast growing demand and a limited supply chain.
For building designers and architects: find out more about building fabric works and construction approaches that will be needed on many homes before thinking about building technology.
For retrofit consultants: this course gives Retrofit Co-ordinators and Advisors an understanding of how theory translates into the practical reality of a building site.
For enthusiastic DIY-ers: Learn about eco building considerations and techniques, find out what you're capable of, and become an informed client to any contractors you might need to help you.
For community intermediaries: build a supply chain for retrofit in your area; if you have existing supply chain links this course will help them get ready for work; a simple, replicable course to get people interested; useful for enthusiastic DIYers in your networks/membership
Dates and times
This is a two-day course. You must attended both days in order to receive a certificate of attendance.
There are two courses, one in Aberdeen, one in Aberdeenshire, click the buttons below

Venue
NESCOL are hosting the event
You will need to bring your own lunch, but you will have access to a kitchenette with tea and coffee making facilities and a microwave.
If you have any access requirements that you would like to discuss before booking, please get in touch with us through our Eventbrite profile or at info@nesfit.org.
Fees and booking
Single ticket - £100 (plus Eventbrite fees)
Please note that Eventbrite's fees are non-refundable. To find out more about our cancellation and refund policy, please visit our website: https://retrofit.coop/cancellation-policy-training.For more information and/or if the course cost is a barrier for you, please get in touch with us through our Eventbrite profile or at info@nesfit.org.
About the training

This training has been organised by the North East Scotland Retrofit (NESFIT) Hub.
The training provider is People Powered Retrofit with funding provided by Centrica-Scottish Gas Zero.